Production: Nigeria is the largest producer of palm oil in Africa and one of the top 10 producers in the world. The country has an estimated 10 million hectares of land suitable for palm oil cultivation, and the crop is grown primarily in the southern states. In 2020, Nigeria produced approximately 2 million metric tons of palm oil, accounting for approximately 7% of global production.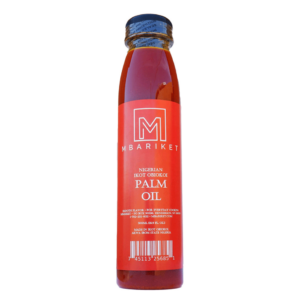 Trends: The demand for palm oil continues to grow globally, driven by its widespread use in food and non-food products, as well as increasing demand from developing countries. The global palm oil market is expected to grow at a compound annual growth rate of 5% from 2020 to 2025.
Markets: Nigerian palm oil is exported to a variety of countries, including Europe, Asia, and the Americas. The bulk of the exports are destined for Asia, where it is used primarily in the food and biodiesel industries. In 2020, the total value of Nigerian palm oil exports was approximately $2.3 billion. The domestic market for palm oil is also growing, with increasing demand from the food, cosmetic, and pharmaceutical industries.
In conclusion, Nigerian palm oil is a key agricultural commodity with significant economic importance. Its growing global market, driven by increasing demand for both food and non-food applications, makes it a crucial driver of economic growth and development in Nigeria.
Summary
Largest producer of palm oil in Africa and one of the top 10 in the world
Estimated 10 million hectares of land suitable for palm oil cultivation in Nigeria
2 million metric tons of palm oil produced in 2020, accounting for 7% of global production
Growing demand for palm oil globally, driven by widespread use in food and non-food products
Mainly exported to Asia for use in food and biodiesel industries
Total value of Nigerian palm oil exports in 2020 was approximately $2.3 billion
Domestic market for palm oil is also growing, with increasing demand from food, cosmetic, and pharmaceutical industries
Crucial driver of economic growth and development in Nigeria
Global palm oil market expected to grow at a CAGR of 5% from 2020 to 2025
Key agricultural commodity with significant economic importance in Nigeria